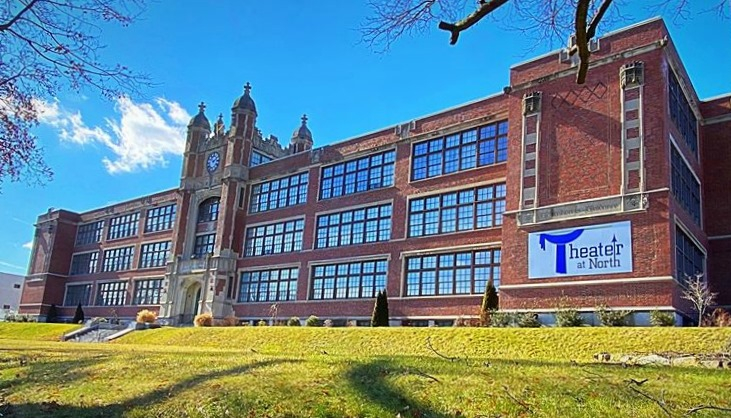 The mission of The Theater at North is to enrich the life of our community
by offering quality performing arts, as well as providing a venue
for social, educational, and professional events.
The Theater at North is located in the former North Scranton Junior High School building atop the hill where Green Ridge Street meets North Main Avenue in Scranton, PA. This historic landmark was built between 1922 and 1924 in a late Gothic Revival style, featuring a four-story clock tower, and is on the National Register of historic places.
The building served as a junior high school until its closure in 1987. In 2015, with Gerald T. Langan at the helm, Goodwill Industries of Northeastern Pennsylvania fully renovated this historic landmark into 58 senior-living units. The building was aptly renamed, "Goodwill at North, Gerald T. Langan Apartments."
In the heart of the building lies the majestic Theater at North, a fully restored and renovated 800 seat performing arts theater, featuring state-of-the-art sound and lighting, and equipped for movie screenings and live feeds to a projection screen. Amenities include dressing rooms, a green room, and a box office, along with a beautiful gallery and lobby. The theater is fully handicap accessible and free off-street parking is available in a well-lit parking lot located directly behind the building. The Theater is host to a variety of performances, concerts, recitals, films, lectures, and community/social events.
The Theater at North is owned by Goodwill Industries of NEPA whose mission is to provide supportive opportunities for individuals with disabilities or other barriers, to enhance their lives. All proceeds from ticket sales and venue rentals go to Goodwill Industries to support individuals in NEPA.
Check out the slide show below to learn more about the history of our building!